A Calgary-based company with a desire to help you succeed.
EducationWise is a Professional Tutoring Agency
EducationWise is a professional tutoring agency out of Calgary, Alberta, Canada. We pride ourselves in being locally owned and operated with national and international reach and always providing exceptional tutors that have been prescreened, interviewed, and given basic and advanced training to meet our students' diverse needs.
With what started in 2002 as an idea and dream for local Calgarian and founder Louise Ridout has grown and expanded into what thousands of Canadians and several hundred Calgarians now know as EducationWise Inc. Prior to establishing EducationWise, Louise taught mathematics and statistics at Mount Royal College and at the Southern Alberta Institute for Technology, as well as tutoring privately. Louise's personal history inspired her to help struggling students.
As a child and young adult, she had to teach herself how to break down course material into manageable steps and how to identify and accommodate her own learning style. In spite of her initial challenges in school, Louise successfully completed an honours degree in mathematics and a master's degree in statistics. After investing 19 years into EducationWise and having started the company later on in her life Louise decided early in 2021 that it was time for her to step down and pursue other passions, travel a bit more, and spend more time with her children and grandchildren.
Thankfully around this time, Louise had an ambitious and service-minded entrepreneur investigating and inquiring about EducationWise – someone that she came to feel would be ideal to take her place as the new owner and director. After several months of working with Lousie and learning about the good work EducationWise was doing in Canada, they both agreed it was a good fit and Tim Howie made the decision to purchase the company at the start of September 2021.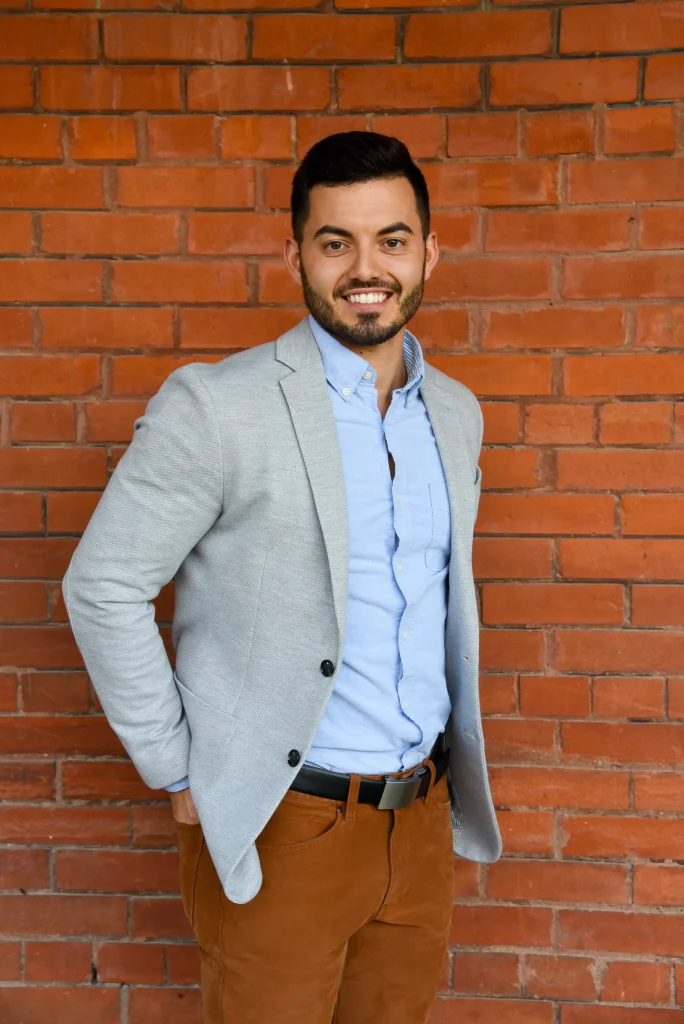 Hey, welcome to EducationWise!
My name is Tim.
I strive to be a kind and humble individual that finds joy in making others smile. I was born in Calgary and have lived here, in the northwest quadrant, ever since except for a two-year (2012-2014) stint when I was living in the UK. I spent time in both Scotland and Ireland serving and teaching hundreds of people as a missionary.
My primary mission is to serve others regardless of their or my title, education, ethnicity, race, gender, or any other distinguishing factor. In addition to serving others, I want to give back to my parents that have given me so much and pay my surplus forward to help people in need who are striving to reach their goals. I believe throughout the globe there are more resources than there are needs to be met. Meaning that there is no logical reason for anyone on Earth to be without clothing, shelter, food, or education.
Education will always be an enlightening experience when pursued with a purpose and vision and I believe that education is what has created such vast opportunities for me in North America. By being born here I have reason to be grateful and I believe the responsibility lies within each human to help lift others to higher heights – living on Earth would not be the same if only you lived here. Teaching or Tutoring for me goes hand-in-hand with this philosophy – one that has had the opportunity to be schooled or educated well has the opportunity and again I believe the responsibility to create relationships with others so as to lift them to the same or similar understanding.
My vision for EducationWise is to serve you better and more holistically than Sylvan Learning can. To remain keenly aware of your needs, hopes, and goals while at the same time offering a tailored tutoring experience that exceeds your expectations by cultivating productive and lasting relationships and getting visible results that you'll be proud to share!
A smarter alternative to Sylvan Learning is EducationWise, because we are local, versatile, modern and receptive to what you want and need. While Sylvan is selling franchises we are matching you with a tutor that is tailored for your learning to achieve new personal records!
EducationWise is the place that people think of when they are struggling in academics, organization, test-taking, and so much more. To begin your success story and find opportunities to learn, achieve and inspire get in touch with our team and you'll never look back.
Respectfully,

Tim Howie

Owner/Director
Education Wise Inc.
2021
Charlie has done well with Emma. He really likes her and has worked well with her. We cannot say enough good things about her. We are very fortunate that he was able to have her as his tutor. It has helped Charlie a lot. I am hoping that this year will be easier for him. We spoke about maybe having her during the school year, but would like to see what school will be like. We will definitely keep in touch. - Satisfied Customer
"My daughter Samantha was struggling with her Grade 8 Math and her math teacher in school was not helpful at all. So, I called EducationWise and they had recommended Clarice to help Samantha with her Math. It was a good match-up, Clarice helped Samantha tremendously with her Math. Her grades improved as well as her confidence in her ability to
work independently. I would highly recommend EducationWise. -Sandra Boniface "
Read More
"My 3.5-year-old son participated in one of EducationWise's Preschool Math Workshops. It was amazing! I wasn't really sure what to expect when I signed up, but I liked the idea of it. He had never displayed any interest at all in math before, despite our efforts to practice counting etc. I was blown away by how quickly he developed an interest in math.
He was counting everything, sorting objects, paying attention to size etc. I couldn't believe his enthusiasm and eagerness to use his skills every day.The classes were super fun and really well thought out. The activities were awesome and age-appropriate. The instructor was amazing. So good with the kids and really engaging. I cannot speak highly enough about this workshop. I have recommended it to all of my friends and we are really looking forward to the next session! -Sarah"
Read More
"As an elementary school teacher, I was extremely impressed with the course which was fun and engaging for the kids. I was surprised how early my son was able to learn skills that I continue to teach in elementary school. Stryder"
"I came to Education Wise 1 week before Christmas with an urgent request, I needed to write a course review challenge exam for an entry-level Statistics course and achieve 70% or better to continue on with my degree. With only 2.5 weeks to prepare (over the Christmas holidays), My tutor was very flexible in working with me to meet my tight deadline.
We covered the required material in an efficient and effective matter and I'm happy to say that I pulled off an 80% on my challenge exam, I could not have done this without the help of EducationWise, thank you. If you're looking for results, look no further!-Patrick
Read More
"A former struggling math student, I had approached Education Wise for a tutor who could help me with Grade 12 math. The tutor was more than excellent. She helped create a comfortable atmosphere, was extremely knowledgeable about the subject matter and could adapt the way she conveyed the content to suit my learning style. My EducationWise tutor
brought my math grades from 60% to 90%+. Seeing the effect a good tutor can have on the academic aspirations of a student, I applied to become a tutor myself. Currently, I am teaching Math & the Sciences. Thank you EducationWise for helping me make that leap! -Ajay Sahai-June 2012"
Read More
"I wanted to use this medium to appreciate our tutor Mary for her passion in making sure that my son Daniel did not just read books but loved to read books without any external force from the parent which was the case before Mary Anne started her tutoring. Before we contacted EducationWise Daniel was struggling in reading and he would only want to read comic books.
The first day Mary came to see Daniel and conducted an initial assessment of his ability she made him realize how important reading is and how not to only read but to also put himself into the book and feel the pulse of the writer and be able to function outside the box and being able to use his imagination during reading. She introduced him to some Percy Jackson book series and for the whole of last summer 2017, there was a great improvement. He now enjoys reading and is not afraid to challenge the sister who is reading above her grade level. Mary Anne indirectly introduced a healthy reading competition between them and this has brought them closer than before. In Language, Arts Daniel's previous percentage was below 50% but glad to say that his report that came in last Thursday was 77%. I waited for this while to be able to compare the difference and to reference that while sending my mail and to appreciate the good work Mary Anne did. She taught with passion and my kids look forward to seeing her every Monday or Friday. Daniel is planning to write a book which I want Mary Anne to be part of. I want to celebrate the achievement with her. "
Read More
"Our son, Daniel, has been a student of Andrea's thru Education Wise since December 2017. The growth in both academics and confidence since Andrea began working with Daniel is truly remarkable. Daniel began working with Andrea having little knowledge or retention of the alphabet, counting, or site words, and not a lot of interest in learning.
Since engaging her services Daniel has begun to successfully count from zero to 80, is able to consistently recognize numbers 1-12, has retained over 40 site words and recognizes 24 of 26 letters of the alphabet. Such marked improvement in such a short amount of time is amazing and speaks volumes to Andrea's capabilities and engagement with her students. We are excited to see what accomplishments and academic gains will be achieved in the coming months. I would highly recommend Andrea to anyone seeking additional academic support for their child/student. Sincerely, Brooke Gibson"
Read More
"English had always been my son Jazzi's lowest subject, he struggled with reading and writing for as long as I can remember. They helped him out so much, now his marks are all in the range they should be, and he is as happy as ever. I would highly recommend you guys, they have flexible timings, their rates are affordable as ever to achieve better than you
think you can achieve in your classes. - Sarabjeet Brar"
Read More
I approached EducationWise Tutoring because I wanted a really good tutor to help me bring up my grades and help me understand math 20-1 to its fullest potential. EducationWise Tutoring succeeded in all those aspects, not only on the math part but it also helped build up my confidence level, it helped me by explaining everything thoroughly and gave me tons of practise tests and work to do on my own by doing this it helped me to study independently and helped
build up my confidence, this resulted in me succeeding wonderfully on all tests and quizzes I was assigned by my teacher. The results of going to EducationWise were outstanding as I was receiving 60% at best in math with two previous tutoring services and once I went to EducationWise I got 91% on my final math 20-1 exam, which is a remarkable improvement. One thing I really liked was how my tutor Louise would explain the math problems at a level I could anticipate and how once she did this she went further by testing my knowledge and making me do it myself, which really put my knowledge to the test. I found this experience very rewarding as it helped me study and review lots and explained it on a level that I understood completely, this experience really paid off with the amazing results of my final exam mark. I would highly recommend EducationWise Tutoring to everyone who needs any educational assistance whatsoever as it helped me achieve excellence. I was very fortunate to have found EducationWise as my tutor Louise went far beyond any previous tutors in her teaching methods. I am incredibly grateful to EducationWise."
Read More
"My experience with the EducationWise team was nothing short of fantastic. Making a career switch is never an easy decision and, on top of that, writing entrance exams isn't easy either! Having been away from school for quite some time, I was feeling anxious about writing this exam. I'd forgotten most (pretty much all) of the formulas needed to be successful in high school mathematics.
After discussing this with the friendly staff at EducationWise I was informed I shouldn't worry, as they had highly knowledgeable tutors in all fields of study able to go over such topics from the ground up in a way that an old school guy like myself could follow and understand. I decided to pull the trigger on their services and am proud to say that in only a short amount of time, was able to write my exam in confidence and came out with a final grade of 92%. You can't put a price on success and with this being said, the cost of their services was beyond reasonable. My name is Adam Buchanan and can confidently say I have learned the mathematical skills necessary in becoming a skilled Mobile Crane Operator. Thanks, EducationWise!"
Read More
"I was very satisfied with the service given to me by this tutoring company. I was struggling with Biostats 2223 and found Louise just before my final exam for help. She gave me 2 tutorial sessions and I left every time with a high level of confidence! She was really good at detecting where my misunderstandings or lack of knowledge of the material were and helped me
go through several examples to find different ways that could be even easier to understand and to solve than what we studied in class. Louise has a long teaching history and students who seek help and explanations in Math are in an excellent hand with her. Thank you for the support! - Noemi"
Read More